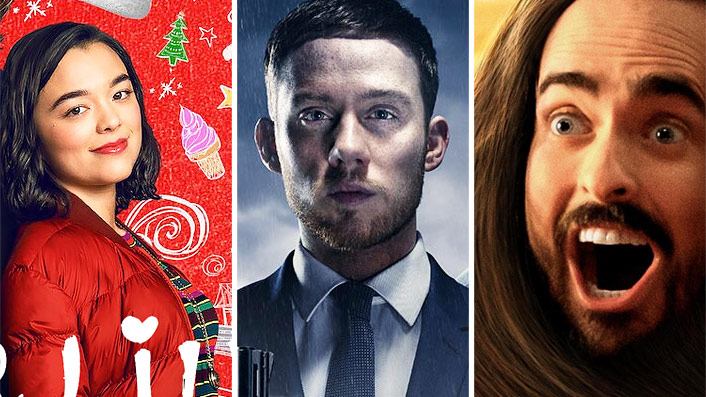 7 new shows arriving in November that we're excited about

---
Fans of teen dramas have several new shows to sink into this November—but if that's not your style there's also plenty of crime and comedy to keep you busy. Here are the new shows about to arrive that we're most excited to stream…
Betty (November 6)
Coming to Netflix
For generations past, Gidget and Puberty Blues explored stories of girls trying to make it in the macho culture of surfing. With Betty, it seems not much has changed, except the type of board. This HBO series is about a group of girls passionate about skateboarding who come up against resistance and cruelty in the male-dominated New York scene. Director Crystal Moselle based the series on her 2018 movie Skate Kitchen, the show adding depth to both the plot and characters.
Wayne (November 6)
Coming to Prime Video
Wayne was actually released on YouTube Premium in 2019, but now Prime Video is giving it new life. It's an action comedy about a teen boy who goes on a journey to retrieve his dead father's stolen car, with the help of his crush. But this is no sappy coming-of-age story—while there is a lot of heart in it, it gets quite dark and violent at times. The young leads, Mark McKenna and Ciara Bravo, do an incredible job.
Coming to Stan
Who can resist a gritty British crime drama? Gangs of London is, as the name suggests, about the power struggles between rival gangs in present-day London. It's action-packed and highly bingebale. Joe Cole brings his Peaky Blinders experience to a modern setting, playing the son of a crime boss who dies suddenly. He's joined by the always-wonderful Michelle Fairley as his mother.
Coming to Stan
John C. Reilly, Tim Heidecker and Fred Armisen come together in this quirky show about aggressively mediocre astronauts who desperately want to go on a mission to the moon. The trio are not only starring, but also co-writing and producing the show, alongside director Jonathan Krisel. The main action centres around the trio entering NASA's moonbase simulator in Arizona. The show's themes of stress and isolation could not have come at a more relevant time.
Coming to Netflix
Based on the best-selling book Dash & Lily's Book of Dares by YA superstars David Levithan and Rachel Cohn, this eight episode teen rom-com set at Christmas promises to be a heartwarming escape. Main characters Dash and Lily get to know each other and have adventures all across New York City as they trade a notebook back and forth, filling it in turn with thoughts, dares and questions for each other. Levithan and Cohn's work has previously been adapted into delightful movies Nick & Norah's Infinite Playlist and Naomi & Ely's No Kiss List.
Coming to Netflix
Australian comedy group Aunty Donna already has a strong following, but their new Netflix show is set to take them to a whole new level. The six-part series, produced by and guest starring American comedy fave Ed Helms, will feature Aunty Donna's characteristically absurd sketches and musical numbers. It's the kind of show everyone is going to be talking about and quoting, so hop on board or get ready for FOMO.
Coming to Stan
The latest show to capitalise on the ever-increasing nostalgic hunger of millennials, the Saved by the Bell reboot takes on a very different tone and aesthetic from its original. While Elizabeth Berkley and Mario Lopez are back as Jessie Spano and AC Slater respectively, and other original cast-members set to guest star, the main focus is on the new generation of students at Bayside High. Specifically, the class friction at play as students from lower income households enrol. There are only two ways the show can go: very, very wrong or very, very right. It will be interesting to find out where it lands.