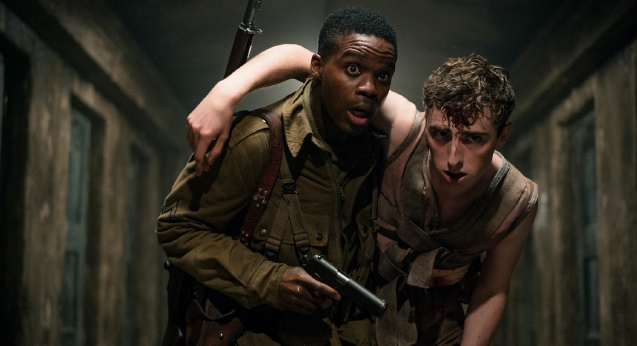 5 scary movies to stream that you might have missed at the cinema

---
Nothing says 'weekend viewing' like a bunch of excellent scary movies. Maria Lewis picks five that have just arrived on Australian streaming platforms. 
Horror movies rarely get a decent theatrical run in Australia, if they get one at all. Thankfully if you blinked and missed them, there's a whole swag of top tier films that have just hit streaming services. From ballet witches to a Scottish zombie Christmas musical (no, that is not a typo), here's a breakdown of what should be scaring you.
The 1977 Suspiria was a horror classic for a lot of reasons, with Dario Argento's striking visuals and eerie tone being chief among them. Narrative, however, was not one of the film's stronger points.
That's where Luca Guadagnino's 2018 version improves on the source material, adding a rich mythology to the 'ballet witches' concept and also building layers of political intrigue eerily relevant to the current climate. Not to mention dynamite performances from Tilda Swinton – playing two entirely different characters – Dakota Johnson, Mia Goth, Chloe Grace Moretz and Aussie breakout Gala Moody. Like Hereditary, Suspiria contains scenes likely to make you physically react and hide behind your hands. It also just so happens to be one of the most accomplished genre films of the past decade.
By all rights, a Nazi zombie movie should not be this good. Because that's what Overlord is, with the JJ Abrams approved blockbuster sitting firmly in that very specific sub-genre of horror. One of the film's stars, Pilou Asbæk, described it as "Saving Private Ryan on crack cocaine" and as far as descriptions go, it's pretty apt. Never leaning too hard on the war genre or too hard on the zombie side of things, Overlord somehow manages to balance both and features what should be a movie star-making performance from Wyatt Russell, son of Kurt Russell and Goldie Hawn. Directed by Aussie Julius Avery (Son Of A Gun) and featuring a relentless score from another Aussie, Jed Kurzel, it's a movie best played loud.
Horror musicals are few and far between, with that list consisting mainly of Sweeney Todd, Little Shop Of Horrors and The Rocky Horror Picture Show (at a stretch). Anna and the Apocalypse is a Scottish zombie Christmas musical and you can be damn sure those words aren't often put together in a sentence. An audience favourite on the film festival circuit last year, it's hard not to be charmed by the combination of music, mayhem and macabre. With a considerably smaller budget than the other films on this list, what it lacks in a certain slickness and sheen it makes up for with heart.
One of the most talked about films of 2018, Hereditary has just hit Netflix and is fully equipped to ruin your life. Toni Collette gives the best performance of her career as an unhinged mother grappling with strange occurrences happening to herself and her children following the death of her own mother. It's not quite as simple as that, but if you've managed to get this far without spoilers the less you know going into Hereditary the better. Distinctly unnerving in a way not dissimilar to films like The Wicker Man, Kill List, Rosemary's Baby and even fellow list entrant Apostle, it's truly a movie that lingers.
A Netflix original (so we're cheating a little bit as it never hit cinemas) this film should be generating a lot more hype than it has considering it's from Gareth Evans: the writer/director behind The Raid and The Raid 2. Set at the turn of the century in 1905, a man embarks on a fraught mission to rescue his sister from a sinister religious cult on an isolated island. When Dan Stevens dips into genre (The Guest, Colossal, A Walk Among The Tombstones) it's always a treat, and Apostle is no exception.
Period horror too is a rare and wonderful thing, with the lack of technology adding another layer of peril. Netflix have a strong slate of original horror movies like Cam, Hush, The Ritual and Gerald's Game that have each done something quite extraordinary. Apostle is perhaps the first example of that ambition fully realised with its creepy tone, original concept, smattering of gore and memorable performances, not just from Stevens but also Michael Sheen as the cult leader.