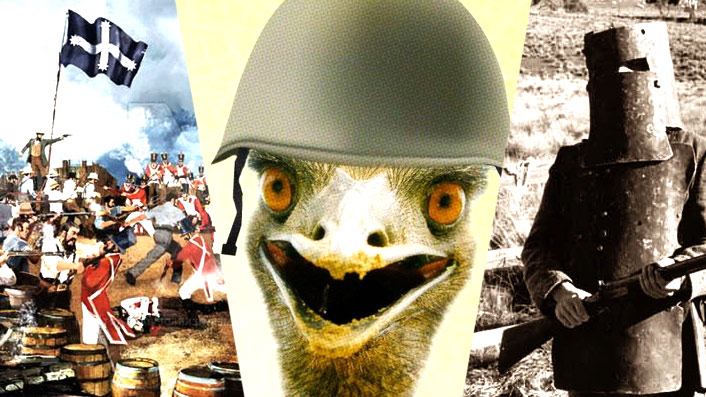 5 Australian historical events that would make great movies

---
With the critically acclaimed True History of the Kelly Gang now streaming on Stan, the question begs: what other Australian historical events would make great movies? Critic Travis Johnson goes back to history class to find out.

Justin Kurzel's delirious and provocative True History of the Kelly Gang (now streaming on Stan) is a fantastic film, but it's just one of many we've had about our lad Ned and his armoured posse.
Australian history has plenty of other material for would-be auteurs to plunder for script fodder. So what exactly are the Australian historical events that could make great movies? And who should direct 'em?
Well, wouldn't it be good to finally see a movie about…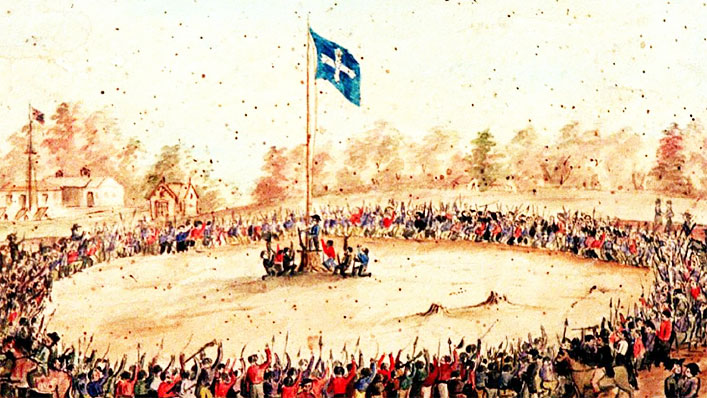 1) The Eureka Stockade (1854)
What happened
In the Ballarat goldfields of the 1850s, tensions ran high between government forces and miners who baulked at the high price of a miner's license, leading to several violent protests, mass arrests and a general tone of civil unrest.
It all came to a head with angry miners burning their licenses, swearing allegiance to the Eureka Flag, and building a ramshackle stockade in defiance of the law. On December 3, a mixed force of police and soldiers hammered them into the ground in ten minutes flat. Casualties on the rebel side were high.
Afterwards, 13 diggers were tried for sedition and high treason but were acquitted. Massive public support for the rebels led to the adoption of the Electoral Act of 1956. This enfranchised male colonists, thus making the Eureka Rebellion a key action in the birth of Australian democracy.
Why it would make a good movie
It's the birth of Australian democracy. We don't have a Revolution or a Civil War to point to when talking about our national identity. We have the Eureka Stockade, so it's actually kind of weid that a big budget cinematic epic hasn't been produced yet.
With a sprawling, diverse cast (miners came from around the globe), complex political and societal issues in play, heroic sacrifices in defiance of tyranny, and a built-in climax of unbelievable power and pathos, this one is ready made for the big screen. Kriv Stenders, who just proved he can handle a large scale and a big cast with Danger Close: The Battle of Long Tan, is a perfect fit for this material.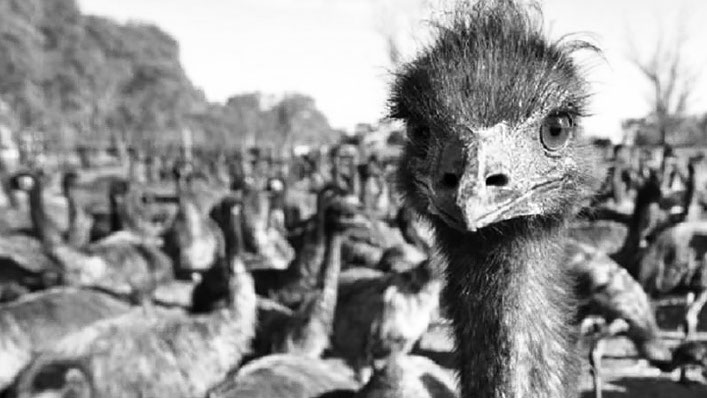 2) The Emu War (1932)
What happened
As the Great Depression raged and Western Australian wheat farmers argued with the government over their failure to deliver promised wheat subsidies, the beleaguered cockies found themselves facing a new and more immediate threat: a plague of some 20,000 migrating emus attracted by the bountiful crops and abundant water of the wheatbelt.
The farmers, many of them World War One veterans, petitioned Defence Minister Sir George Pearce to deploy machine guns to deal with the birds. Unbelievably, Pearce agreed, sending along a couple of Lewis guns, 10,000 rounds, of ammo, three soldiers from the Royal Australian Artillery, and a Fox Movietone cinematographer for posterity.
What followed was a farcical week-long campaign that saw the soldiers haring around the outback trying to ambush flocks of emus, only for the big birds to immediately disperse under fire with minimal casualties. At one point they tried mounting a gun on a moving truck. Reports vary, but it seems that at most 500 emus were killed, and possibly as few as 30. A second foray a few weeks later was only marginally more effective.
Expedition commander Major G. P. W. Meredith, who noted that his men suffered no casualties, later expressed his admiration for his feathered enemy, saying, "If we had a military division with the bullet-carrying capacity of these birds it would face any army in the world … They can face machine guns with the invulnerability of tanks. They are like Zulus whom even dum-dum bullets could not stop."
Why it'd make a good movie
The Emu War has all the earmarks of a laconic, satirical comedy that puts the wind up governmental inadequacy and bureaucracy while allowing for a broad cast of larrikin locals to tear strips off of the intervening soldiers and, by extent, the settler government as a whole. Obviously, it works as a send-up of the whole process of colonisation, the background presence of the Great Depression and, tangentially, the ongoing Western Australian secession sentiment, gives it some extra political pathos. Little Monsters and Down Under director Abe Forsythe could knock this one out of the park.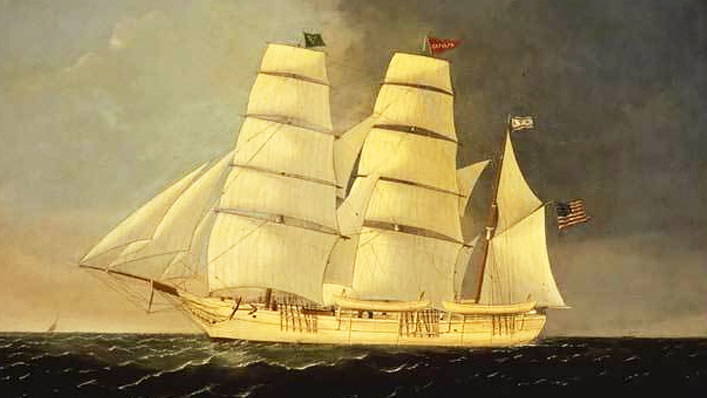 3) The Catalpa Rescue (1876)
What Happened
Six Irish Fenian rebels imprisoned in Western Australia were rescued by George Anthony, an American whaling captain, in one of the most audacious prison breaks in history. The Irish revolutionary group Clan na Gael mounted a years-long campaign to free the men, which involved sending undercover operatives to infiltrate the colony while at the same time buying the former whaling ship Catalpa and finding a willing accomplice in Quaker ship captain George Anthony, who viewed the men's imprisonment as unjust.
The actual rescue took place during the Perth Yacht Club Regatta on April 17, 1876, when most of the colony were occupied. The Catalpa picked up the escapees from Rockingham using a whaleboat, with the alerted authorities pursuing them through a sudden squall to where the Catalpa waited in international waters.
Sign up for Flicks updates
When the Australian ship the Georgette fired a warning shot, Captain Anthony calmly pointed to the American flag flown by the Catalpa and informed his pursuers that, since they were outside of Australian territory, any more of that sort of thing would be an act of war against the United States. The Georgette went back to Rockingham and the Catalpa sailed into the Indian ocean, and freedom.
Why it'd make a good movie
Are you kidding? This has got the lot: defiance in the face of injustice, a desperate plan, danger on the high seas, thumbing the nose at the hated British, flying the flag of the beloved Irish. And also a perfect heroic figure in the form of Captain George Anthony, who, being American, would get the international market onside. Get Peter Weir to direct, cast Tom Hanks and a roster of local character actors, and you're home and hosed.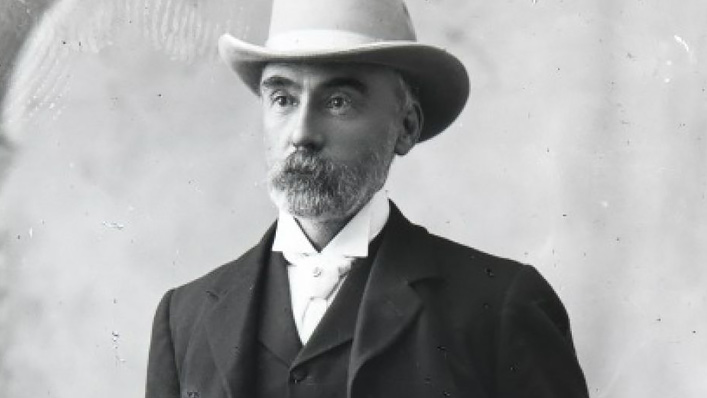 4) CY O'Connor (1842 – 1902)
What happened
Having already established a reputation for achieving the impossible while working in New Zealand, Irish engineer Charles Yelverton O'Connor decamped for Perth to take up the position of Engineer-in-Chief of Western Australia. There he undertook two monumental tasks: the construction of Fremantle Harbour still considered to be one of the greatest engineering feats of its age, and the building of the Goldfields Water Supply Scheme to pipe potable water over 500 kilometres to the Kalgoorlie diggings. Both are still in use today.
However, O'Connor had man enemies in the government and the press, and even was subjected to continuous character assassination in print and in parliament. Utterly dejected and with his reputation in tatters, he rode his horse into the surf south of Fremantle early on the morning of March 10 1902 and shot himself through the head. Today a statue marks the place of death.
Local Indigenous tradition holds that the Nyoongar people of the area were angered that O'Connor had destroyed a sacred sandbar and reef structure in the Swan River as part of the building of Fremantle Harbour, and literally cursed him to suicide by "…[singing] him to make him crazy." And so, from that perspective, O'Connor was doomed by his indifference to Indigenous culture, not his enemies in Colonial power. Or perhaps it was both.
Why it would make a good movie
A dissolute, alcoholic (he was a big, big drinker) genius who rails against the small-minded concerns of petty governmental tyrants, brings forth mighty works with sheer force of will and persistence, and is brought low by his own hubris (and possibly Indigenous magic?). The story of C.Y. O'Connor is a Greek tragedy carved into the rugged Australian landscape.
It's an immigrant story, a colonial story and an Indigenous story, at once encapsulating the importance of fighting for your vision and the foolishness of ignoring the harm that doing so can bring. It feels like it needs a Nick Cave/Warren Ellis soundtrack, too, so we'd better get The Road and The Proposition director John Hillcoat on board.
5) The Wreck of the Batavia (1629)
What happened
The Dutch ship the Batavia was already dealing with a mutinous crew when it foundered on the Abrolhos Islands off the Western Australian coast on June 4, 1629. With the surviving ship's company facing starvation and dehydration on the barren islands, Commander Francisco Pelsaert and some loyal men set off in a longboat in search of fresh water and rescue, eventually making it all the way to what is now Jakarta.
In his absence, mutineers Jeronimus Cornelisz, Ariaen Jacobsz and their followers went more than a bit Lord of the Flies, seizing control of the survivors and proceeding to murder at least 110 men, women and children over the course of the next two months.
Cornelisz planned to seize any approaching rescue ship and make off for some unknown land to set himself up as a king with plunder from the Batavia, but that never eventuated. Instead, when Pelsaert returned in a fresh ship, battle ensued and the mutineers were put down, with many summarily executed, a couple marooned on the Australian mainland, and more taken back to Dutch territory for trial, torture, and death. Of the original ship's company of 332, only 122 survived.
Why it'd make a good movie
Lord knows we've tried. Back in the '90s Dutch provocateur Paul Verhoeven wanted to make Batavia in W.A. but couldn't get funding. Recently Russell Crowe purchased the rights to the 1966 novel The Island of Angry Ghosts by Hugh Edwards, but nothing seems to have come of that.
Perhaps it's because the Batavia story is a horror story, and to tell it even remotely accurately (and believe me, we've only skimmed the surface) would involve savage murder, cannibalism, infanticide and a whole lot of rape. Combine that gruesome content with the budgetary demands of a historical epic and you've got a niche project with a niche audience. Which means True History of the Kelly Gang and Snowtown director Justin Kurzel should be champing at the bit.