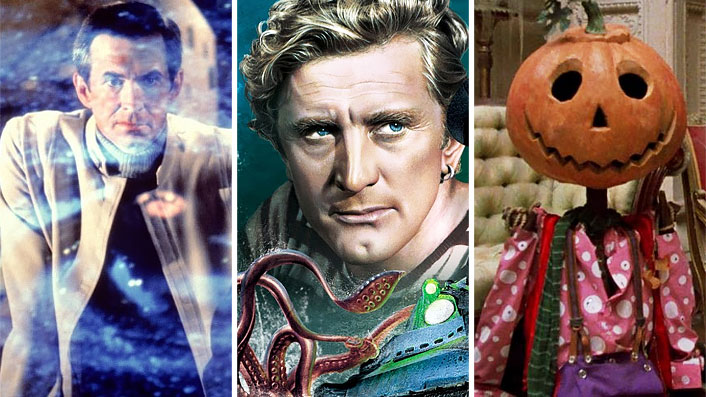 10 hidden gems on Disney+ you probably haven't heard of

---
When the Big Mouse launched Disney+, it brought an absolutely massive back catalogue of titles online. Travis Johnson trawls through the archive to find 10 of the best and most bizarre oddities.

The value of Disney+ doesn't just lie in the plethora of Marvel, Star Wars and live action adaptations of beloved animated features it has to offer. At just under 100 years old, the venerable studio has an absolute bucketload of content to offer, from live action and animated movies, fiction and factual TV series, plus the short animations that old Walt built the company up from and more.
Read more
* All new streaming movies & series
* Best new movies and TV series on Disney+
While we're still waiting for some beloved obscurities to make their streaming debut (where's my Never Cry Wolf, mouse?) if you dig a little, you'll find all kinds of strange hidden gems to delight Mousketeers of all ages.
Here, then, are 10 to get you started.
Sci-fi weirdness in which the crew of the spaceship USS Palomino, including Robert Forster, Anthony Perkins, and Ernest Borgnine, encounter dark doings aboard a lost ship moored on the edge of a black hole in deep space. Like Star Trek: The Motion Picture, this is an example of big studios trying and more or less failing to ride the post-Star Wars sci-fi wave of the late '70s.
The parallels are obvious—evil robot Maximillian may as well be Darth Vader, and little bucket bots V.I.N.CENT (voiced by Roddy McDowell) and BO.B (Slim Pickens!) are basically twin R2 units. But it's ambitious, daft, surprisingly dark, and you get the great Maximillian Schell as mad scientist Dr. Reinhardt.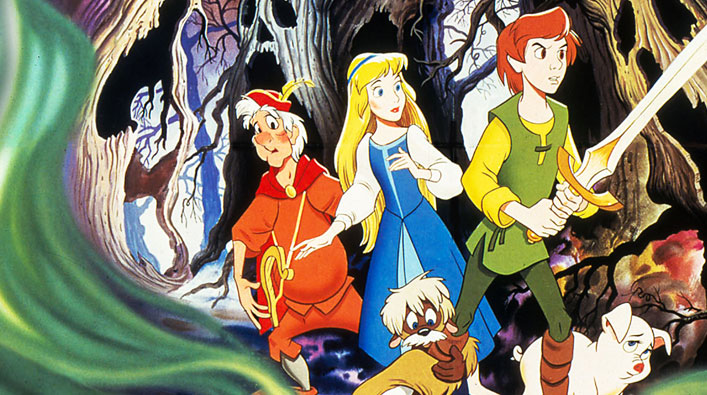 Running low on fairy tales and casting around for new material to adapt, a struggling Disney landed on Lloyd alexander's Chronicles of Prydain novels, which are rooted on Welsh mythology. With the evil Horned King (John Hurt) threatening the land, wannabe warrior and actual pig farmer Taran (Grant Bardsley), Princess Eilonwy (Susan Sheridan) and bard Fflewddur Fflam (Nigel Hawthorne) team up to stop him getting his claws on the titular artefact, which can summon an undead army.
Way, way, darker than your standard Disney fare, the film—the most expensive animated effort ever at the time—flopped on release, but its reputation has been restored in recent years. Fun fact: a young Tim Burton worked on this one, as a conceptual artist.

Snake Plissken was a Disney teen heartthrob! Years before he was John Carpenter's go-to tough guy, Kurt Russell starred in a string of teen-themed vehicles for Uncle Walt, the most prominent of which were the Dexter Riley Trilogy: The Computer Wore Tennis Shoes, Now You See Him, Now You Don't (weirdly not available on Disney+) and The Strongest Man in the World (Available. Seriously, it's like leaving out The Empire Strikes Back).
In this first instalment Dexter, a student at fictional Medfield College (also the setting of The Nutty Professor), gets a kind of computerized brain in a lab accident, allowing him to make paid calculations and whatnot. This puts him in the path of Cesar Romero's gangster, and wholesome hijinks ensue. It was a different time.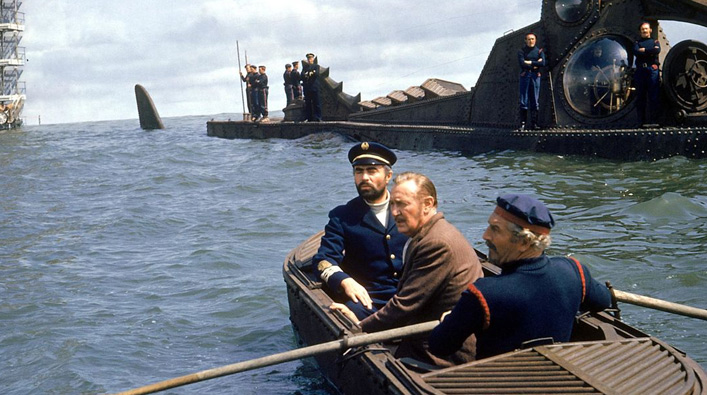 Disney's adaptation of Jules Verne's early sci-fi classic is an absolute banger, boasting still-impressive special effects, a cracking script and an excellent cast. James Mason takes the centre stage as 19th century submarine pirate Captain Nemo, waging a campaign of vengeance on the surface world, but the more poignant turn belongs to the late Kirk Douglas, who steals every scene he's in as happy-go-lucky sailor Ned Land. While Kirk fighting a giant octopus with a harpoon is impressive, the most charming scene sees him serenading a seal with his ukulele. Bless.
Decades before Who Frame Roger Rabbit? Disney combined live action and animation with this oddity, a World War II adventure that sees Angela Lansbury's nascent witch and the three children in her charge both mucking around with cartoon anthropomorphic animals and battling Nazi commandos with magic. It's a weird one: a sprawling, picaresque adventure that skips from one scene to the next with only the slimmest thread of connective tissue. But it's simply too weird to ever be boring.
Jodie Foster is another future star who cut her teeth on Disney fare, most notably featuring in 1976's Freaky Friday. A year later she was looking for hidden treasure in this obscure gem, playing an orphan recruited by Leo McKern's ne'er-do-well to pose as the elderly Lady St. Edmund's  (Helen Hayes) long-lost granddaughter in order to swipe the pirate booty rumoured to be concealed in the titular estate.
David Niven wins MVP with his turn as Lady St. Edmund's loyal butler, Priory, who pretends to be various other staff members so that she doesn't discover he's had to let them go due to their diminishing fortune. It's a charmer, albeit an occasionally clunky one.
A whimsical bit of Oirish nonsense in which ageing groundskeeper Darby O'Gill (Albert Sharpe) must not only contend with the tribe of leprechauns who plague the country estate he cares for, but also newcomer Michael McBride. He is the young buck who is not only set to replace him, but has eyes for Darby's beloved daughter, Katie (Janet Munro). The big news for modern viewers is that Michael is played by a young, hyper-virile, pre-007 Sean Connery. Worth a spin for that alone, and also for its relatively straight-faced treatment of Irish folklore.
In the depths of the Great Depression, resourceful teen girl Natty Gann (Meredith Salenger) travels from the slums of Chicago to the wilds of Washington State in search of her missing father (Twin Peaks' Ray Wise), teaming up with a young hobo, Harry (John Cusack), and a wolf she rescues from a dog fight (Jed the Wolfdog—he was the husky in The Thing!). This tough, tender-hearted adventure really stands up today, giving us a ballsy, well-rounded heroine making her way through a fully realised take on 1930s America.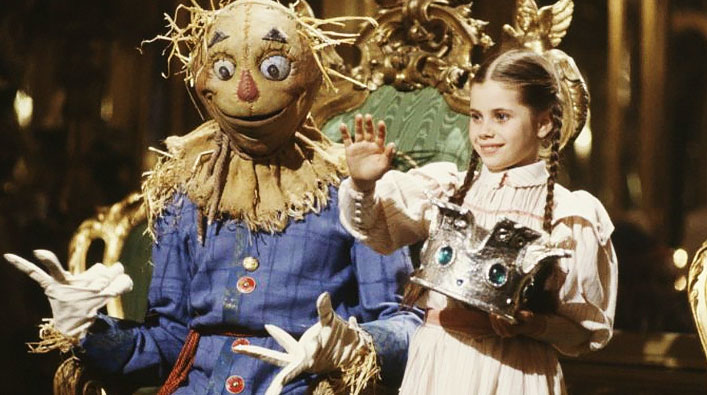 When young Dorothy (The Craft's Fairuza Balk) won't shut up about her adventures in Oz, Aunty Em and Uncle Henry pack her off to an asylum for a bout of electro-shock therapy, only for a lightning strike to send her back to Oz once more. Or does it? The only directorial effort from legendary editor Walter Murch (Apocalypse Now, The Godfather), this mines the darker veins of L. Frank Baum's Oz stories to good, if occasionally traumatic, effect. Whether the Nome King, the Wheelers, or the hallway of severed heads is the most disturbing is for your kids to decide.
Want something real different? How about an episodic feature cartoon/live action hybrid commissioned by the US state Department to help America shore up diplomatic relations with a number of Nazi-friendly South American nations at the dawn of the US's involvement in World war II? No, really—that's how this thing came about. Goofy learns how to be a gaucho, Donald Duck pals around with a new character, Brazilian parrot, José Carioca, and we all marvel at the close ties between pop culture and foreign policy. Disney did it all again a couple years later with 1944's The Three Caballeros, which is also available on Disney+.