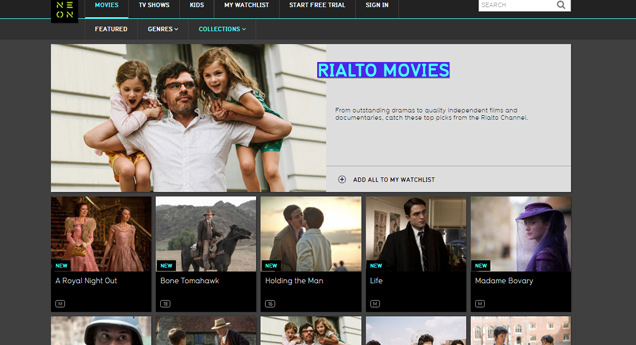 Maybe you're staring down the barrel of an orphan's Christmas. Perhaps the end of year rush has left you in need of a day spent largely on the couch. Or, could be you just like watching back-to-back movies.
Whatever your situation, NEON and Rialto have a new stack of quality film programming that'll keep you engaged through a solid viewing session.
Read on as we take you through the best way to while away a day streaming a bunch of good films.
[Please note: no nutritional or fitness professionals have been consulted in this project. If symptoms persist, see your doctor].
9am: It's time to get up, and get cracking with a hearty break-[hit snooze]
9:22am: It's time to stop your alarm snoozing, get up and get cr-[hit snooze]
9:47am: It's time to get up, make a coffee have breakfast. Move fast, you're already behind schedule and you'll need to start the first film on time or else this whole exercise will be a disaster, you foolish, foolish, snooze-friendly fool.
10:00am: Watch People Places Things. It's important to start this off nice and easy, a familiar face will do the trick, and in this case we're talking Jemaine Clement who gets to enjoy the twin privileges of starring in this New York-set sort-of-rom-com while keeping his Kiwi accent. An especially strong start if you have any overseas house guests, or returning family members in need of hearing Noo Zillun vowels in a motion picture.
11:22am: As the People Places Things credits roll, you're allowed a bathroom break. Hang on? You went during the film? No one said you could do that, it's time to start paying better attention. If you promise to do so, you can even get up and stretch your legs. Do not get another coffee, you will need to keep that up your sleeve for later. Have some scroggin instead.
11:30am: Watch X + Y. This tale of a teenage maths prodigy finding himself as part of a mathletics squad doesn't contain a ton of actual math that you will be required to do. On the other hand, if you slept your way through school, it's probably a good idea to watch this at a time of peak awakeness. It's also good for anyone who demands their Chinese take-away contain a prime number of prawn balls.
1:00pm: Pause X + Y and order seven prawn balls. Eleven if you're particularly hungry.
1:20pm: As credits roll, either enjoy your prawn balls or check on their whereabouts. A bathroom break is also permitted. It now occurs to you that, since you can pause NEON movies at any time, you can actually go to the loo without missing anything. It therefore occurs to us that we no longer need to be tyrannical about when you visit the bathroom.
1:30pm: Watch Life. Robert Pattinson and Dane DeHaan star as a 1950s photographer and his subject, James Dean, who form a bond during photo shoots. It's a chance to relax into the golden years of Hollywood and soak up a supporting cast including Joel Edgerton and Sir Ben Kingsley. Thanks to the steady hand of director Anton Corbijn and DeHaan's portrayal of the screen legend, Life illustrates the qualities that made Dean an enduring icon.
3:15pm: With Life drawing to a close do not go for a drive in a convertible. Got any left over prawn balls?
3:20pm: Watch Holding the Man. After spending some time with a film that centres on the relationship between two dudes, it's time for a film that really centres on the relationship between two dudes. This Aussie drama started life as real life, then became a memoir, then a play, and then this film. Cherished by the gay community, it runs the gamut of life experience – from highs to lows, youthful indestructability to human frailty and, eventually, tragedy. You will absolutely need tissues, we're afraid to say.
4:45pm: Check you have those tissues.
5:20pm: Holding The Man is finishing, and you are an absolute sobbing mess. Sort yourself out, mate.
5:30pm: Watch Bone Tomahawk. Kurt Russell and his magnificent moustache star in this brutal Western that borders on horror. OK, it pretty much is a horror, really. You won't be spending too much time thinking about the tragedy of the previous pic when you're freaking out about what's going to happen when Russell and co-stars Matthew Fox and Patrick Wilson catch up to the cannibal cave-dwellers that have abducted one of their party. Be sure to keep some of that beef jerky for the third act.
7:35pm: Quick, just roll into the next film: Madame Bovary. You've just seen a period pic, another will not do you any harm. And who's to say what's worse, human cannibalism or the stifling social conventions, repression, classism and misogyny of 19th Century upper class France? We admit human cannibalism is a tad worse, but not by much. Mia Wasikowska stars in this literary adaptation, delivering yet another captivating performance as a repressed heroine seeking to break free of social conventions. If marrying for money won't work, perhaps extra-marital affairs will? Maybe they'll also help you free yourself from the trap you've made in trying to watch all these films in a single sitting? We can't rightly say, except to remind you it's too late to turn back now.
9:30pm: Allow 20 minutes for a sumptuous banquet, the likes of which cannot be seen outside the most prestigious royal functions or celebrations marking the end of globe-spanning wars.
9:50pm: Watch A Royal Night Out. You are probably considering sneaking out of the house yourself at this point, but luckily this true, feel-good drama will keep spirits high in front of the screen. Sit tight, as the tale of Princesses Elizabeth and Margaret are allowed out of Buckingham Palace for an anonymous adventure on the day Allied forces return victorious from WWII. Drink champagne/gin and tonic in moderation.
11:30pm: Fetch your glasses, it's time for some subtitles…
11:35pm: Watch Metro Manila. It may be in Tagalog and set in the Philippines, but this thriller about an armoured car guard and the dangers and temptations of the job will have you on the edge of your seat. Gripping and tense, it's perfect as your eyelids start to droop a little. Will Metro Manila's hero resist temptation? Will he stay alive? Will you stay awake?
1:25am: You're almost there. Remember how you weren't allowed a second coffee? You're allowed a second coffee.
1:30am: Watch The Wolfpack. You've watched eight movies today, and they are starting to bleed together. Which makes this scarcely-believable documentary the perfect way to end a day's viewing. By this point, you're probably feeling very sympathetic to the plight of a family of young men, living in an apartment their father will not let them leave. Obsessed with films, their main contact with the outside world, they obsess over the scripts, and re-enact them on camera, making their own props and costumes, in fascinating fashion.
2:55am: You are now allowed to sleep.
2:57am: You have really, really weird dreams.
---
This lovely piece of content is brought to you by NEON. If you're not on NZ's best streaming service already, click here to start a 30 day trial.